Wolfgang Frey at the Demografiekongress in Berlin
2016.09.13
LAST YEAR'S AWARD WINNER WOLFGANG FREY SPOKE AT THIS YEAR'S DEMOGRAFIEKONGRESS IN BERLIN, WHICH WAS OPENED BY DR. THOMAS DE MAIZIÈRE, MDB, FEDERAL MINISTER OF THE INTERIOR
Berlin, September 13, 2016 – Architect and urban planner Wolfgang Frey, who won the prize for the initiative "Germany – The Country of Longevity" ("Deutschland – Land des Langen Lebens") for his Heidelberg Village project in 2015, spoke at this year's Demografiekongress in Berlin on the topic: "How can architecture stimulate social consciousness?" In our increasingly mobile world, it is hard for people to develop a sense of responsibility and connection with the place where they live. Architecture plays a significant role in fostering a sense of community.
While the Demografiekongress in 2015 dealt mainly with the challenges of an increasingly aging population, this year's central topic was the refugee crisis. The refugees' migration requires a high level of sensitivity. Viewing them as the solution to demographic issues is beyond question. Additional challenges await public policy and society in future urban planning with constantly changing variables such as the housing shortage and a rising demand for nursing care. Digitalization also plays an important role in urban development. On the first day of the Congress on September 1, 2016, Congress President Senator Ulf Fink welcomed the visitors. Federal Minister of the Interior Dr. Thomas de Maizière opened the Demografiekongress with a brief talk about our evolving society during a time of global and digital change.
Diverse neighborhoods and digital communication provide mutual support and interpersonal exchange in the areas of social economy, housing and nursing services. Wolfgang Frey focuses on these issues and solutions. With his Frey Group, he single-handedly invests in, develops, builds and rents properties.
One of the solutions from Wolfgang Frey's team is a project called "Social Neighborhood and Technology – SoNaTe for short – that is subsidized by the Federal Ministry for Education and Research (BMBF). In this project, a new digital communication network will be developed that assists towns and regions in building social neighborhoods. With the network's help, people, groups, area organizations and companies will be able to tap into every day interactions, social communication, services, local infrastructure and leisure activities. The project will help improve rural connectivity and, at the same time, the integration of new residents in urban communities. Integrating people with foreign backgrounds will also be made easier through this approach. SoNaTe was also the topic of Wolfgang Frey's talk on the Congress' second day.
Former Ministerial Director Dieter Hackler introduced the speaker's topic "Caring Communities – Sharing Living Space and Life's Circumstances" with engaging and motivating opening remarks. In his talk "How can architecture stimulate social consciousness?" Wolfgang Frey illustrated the many ways to improve quality of life through demographic and sustainable living and thereby newly define the reason for community, using both Heidelberg and Smart Green Tower as examples. The deliberate use of resources and living spaces raises people's awareness for conscious development.
An additional topic included creating affordable housing in Germany, which took the form of a podium discussion with moderator Sebastian Turner (editor of "Der Tagesspiegel"), Dr. Barbara Hendricks (Federal Minister for the Environment, Nature Conservation and Nuclear Safety) and three further participants from the real estate sector. They discussed issues such as financing for new apartments, the renovation of poorer neighborhoods, the expansion of age appropriate living space and the realization of subsidized housing. Through more awareness and planning as well as through new methods of digital communication, the intention is to give people more possibilities to co-exist in the future.
Close cooperation among states, communities and the federal government will play a deciding role in this effort.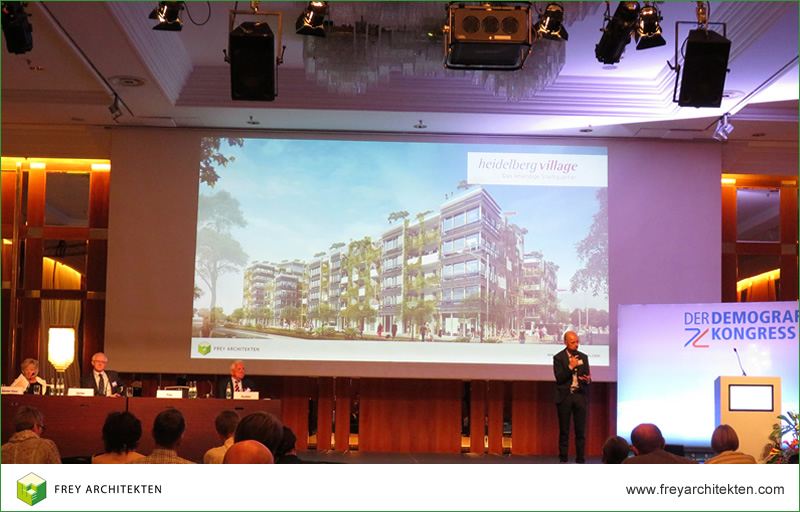 Last year's award winner architect Wolfgang Frey as speaker at this year's Demografiekongress
For more information
About the Demografiekongress:
http://www.der-demografiekongress.de/
The project "SoNaTe":
https://www.freyarchitekten.com/pr/wohnen-im-demographischen-wandel-teilnahme-von-frey-architekten-im-sonate-foerderprogramm-des-bmbf/