Frey Architekten Visited Zhongsen Group and the Construction Site of "Honggu Yipin" Passive House Kindergarten in Jiangxi
2017.03.20
On March 20, 2017, Mr. Wolfgang Frey, chairman of Frey Architekten Group, Ms. Jiakun Wang, partner & CEO of China region and Mr. Zhiyong Xu, secretary-general of Passive House Alliance of China visited the construction site of "Honggu Yipin" passive house kindergarten which is located in Nanchang, Jiangxi.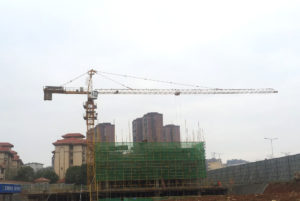 "Honggu Yipin" kindergarten is invested by Nanchang Zhongsen Group, and was designed by WFP Architekten, the subsidiary of Frey Architekten. It is the first kindergarten with passive house standards in "summer hot & winter cold" regions in China, which is going to get dual certificate both from German Passive House Institute (PHI) and the Chinese Ministry of Housing and Urban-Rural Development as an outstanding representative of Sino-German cooperative passive house buildings. So far the main part of the building has been mostly completed.
Mr. Wolfgang Frey, chairman of Frey Architekten Group has been paying highly attention to the project from planning to constructing, with wishes on the combination of German up to date ideas with Zhongsen Group's advanced technologies, both sides exploit the advantages of the full to build further and long-term cooperation in Chinese energy efficient sustainable buildings development. Nanchang Zhongsen Group, the property developer attaching much significance to passive energy efficient sustainable buildings, has accompanied Mr. Frey and visited construction site and gained suggestions and opinions from him. The quality of project site construction has won the praise of all the visitors.
During this visiting, Mr. Qingyuan Zhu, chairman of Zhongsen Group has introduced the top ten sustainable building management systems to the delegation. All visitors has gave a high appraisal to the refinement of the inner structure as well as the stability of top ten sustainable building management systems and construction craftworks.
Source: WFP Architekten